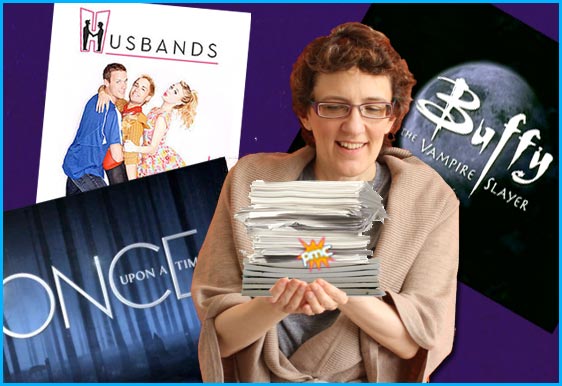 Hey ATA Listeners, I wish this was in podcast format but it's a big surprise nonetheless as Nico attending Comic Con was able to get in contact with a friend of mine from Columbia College who landed us an interview with Jane Espenson, a veteran writer on shows like Buffy, Firefly and Once upon a Time along with Brad Bell the star/co-creator of Jane's new online web series Husbands. So without further ado here is the transcription of our interview directly from San Diego Comic Con 2012…
We caught up with Jane Espenson and Brad Bell shortly after their wildly successful 'Husbands' panel at Comic Con. They talked to us here at Across the Airwaves about success, screaming fans and matching heels with earrings.
1.  For those of among our readers who may be fans of either one of you, but haven't heard of Husbands, can you walk us through what the show is, how it came to be and perhaps where they might be able to find it?
Jane: The show is VERY easy to find.  You can just Google the word "Husbands."  Or you can go to lovehusbands.com.  New episodes will premiere there starting on August 15th.  It's a comedy about a pair of newlyweds, played by Brad Bell and Sean Hemeon.   Of the two of us, it was Brad who had the idea for doing an online show, and it is very much his vision that drives Husbands.
We set out to make the funniest show we could, and we also wanted it to have a reason to exist.  The idea of being a voice for marriage equality simply by showing that everyone has the right to make the same endearing bumbling mistakes at the outset of a marriage… it just feels right.
2.    Jane, did your work on Ellen inform how you approached Husbands?
Jane:  Hm.  Our best episodes at Ellen struck this great balance – they embraced this new aspect of the show and the character, but they made their point through the very act of keeping her someone whom every viewer could identify with.   We try very hard to do the same thing at Husbands.  But I'm not sure that I can say it was a direct inheritance from Ellen, since Brad approached the show with that same instinct from the beginning.
3.     Shortly before the Husbands panel at Comic Con, Jane tweeted her worries about not filling Room 7. Was it gratifying (or perhaps vindicating) to see the room packed to capacity?
Jane: I actually tweeted that I wasn't sure whether to worry about not filling the room or to worry about turning people away.  They both seemed equally likely, since it's so hard to judge something like that.  As it turned out, we were in a very large room and we certainly filled it!  It was very gratifying.  Vindicating?  Well, I think some people didn't anticipate our success, so sure, yes, we can embrace "vindicating."
Brad: It was a relief, but mostly rewarding. After months of incredibly hard work and concern for the audience, here they were having a great time. Success! (And phew!)
4.    The reveal of Joss Whedon as Brady's agent (along with some sneaky banana innuendo) was the first footage that fans at Comic Con got to saw of the upcoming season. Can you talk about the reaction of fans to the clip?
Jane: The fans SCREAMED!  It was wonderful!   They saw that he was funny, comfortable, and in total control of the role.   We know that season two is something we are very proud of.  To see that they responded as we hoped – that's the best feeling ever.
Brad: Seeing 200 faces light up all at once, hearing the joy in the thunderous laughter. For me, that's absolutely the bottom line. That's what motivates me.
5.  Amber Benson, Magda Apanowicz, Emma Caulfield, Sasha Roiz, Dichen Lachman, Tricia Helfer, Joss Whedon…wow. And according to the Comic Con panel, you've still got more to go! Has the dynamic between you and your fans of season one changed now that you guys have started to announce these big names? Are there now, for instance, Grimm fans perking up and following you guys on Twitter?
Brad: What I see more is an almost surreal experience for Husbands fans who are also fans of projects related to the Season 2 guest stars, like Grimm or The Guild. For those fans, two of their favorite things are headed for collision, resulting in an epically satisfying explosion of entertainment.
Jane: Grimm fans?  Oh, because Sasha is in it?  We have to suppose there probably are!  I got 877 new Twitter followers during comic con week, so something is certainly going on.  But the dynamic between us and the fans is the same – we adore them!  The fact that there are more of them now?  That's just more to love!
6.  Online TV series shoot for a much shorter time than a cable or broadcast TV series, but was there a similar "we're family" camaraderie among the cast and crew?
Jane: We think that feeling is even stronger.  It's like your summer camp instead of your high school.  You're together for a shorter time, but it's more intense!
Brad: Definitely a familial vibe. I helped Sean with his homework, gave Alessandra her baths, and awkwardly avoided eye contact when Jane brought her strange friends over for meals. I'm not the best mom, but my heels match my earrings perfectly. That counts for something right?
7.  Any behind-the-scenes anecdotes you'd like to share?
Jane: Let's see – Oh, there was a very funny thing where we needed to fill a beer bottle with something that looked like beer.  A combo of Mountain Dew and iced tea seemed promising until it separated into two distinct layers!
8.   Any words of wisdom for young people who want to follow in your footsteps?
Brad: If you want to do what we're doing, copy the things we're doing that work. Ideally, you want to find ways to do them better.
Jane: You can't write until you read or watch.  Watch TV critically.  Recreate outlines. Write.  Rewrite. Listen with an open mind to criticism.  Create!
Final thoughts?
Jane: Husbands also stars Alessandra Torresani, is directed by Exec Producer Jeff Greenstein and is produced by M. Elizabeth Hughes.
Brad: Hug someone today! I promise they need it.
*Special thanks goes to Bob Urda on this interview.